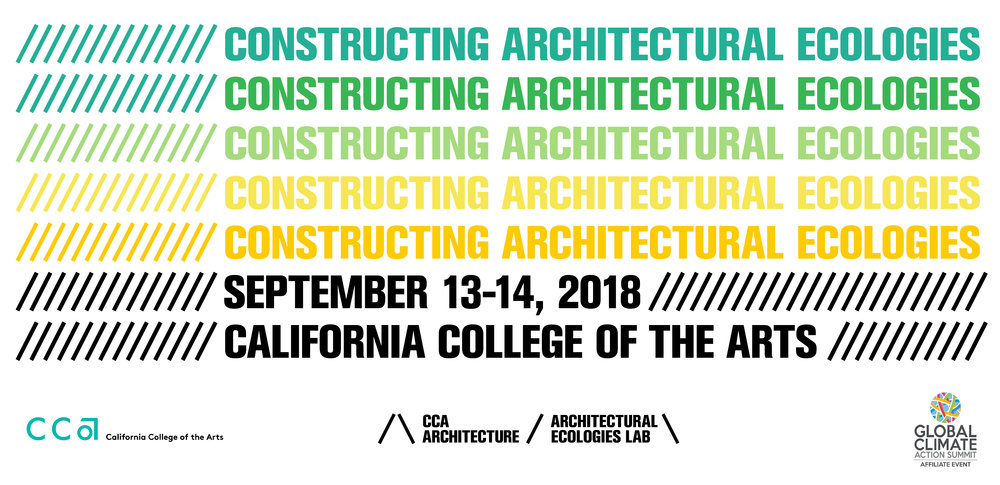 Constructing Architectural Ecologies convenes designers, makers, researchers, and thinkers to speculate on architecture's capacity for expanded ecological agency. The symposium will explore theoretical investigations of architecture's relationship to nature, alternative models for extra-disciplinary collaboration with scientists, and new material logics rooted in ecological processes. The event, planned as part of the Global Climate Action Summit (September 12-14 in San Francisco), is organized by the Architectural Ecologies Lab at California College of the Arts, and will take place at CCA's campus in San Francisco's Design District. The symposium will open on the evening of Thursday, September 13 with a keynote by Dr. Adrian Parr of the University of Texas at Arlington, followed the next morning by a series of panel presentations exploring the relationship between architectural technology and nature.
Confirmed participants:
Adrian Parr, UT Arlington (keynote)
Irene Cheng, California College of the Arts
Sara Dean, California College of the Arts
Richard Hindle, UC Berkeley
Janette Kim, California College of the Arts
Albert Narath, UC Santa Cruz
Virginia San Fratello, Emerging Objects / San Jose State University
Nicole Seymour, California State University, Fullerton
Gena Wirth, SCAPE Landscape Architecture
Organized by: Adam Marcus, Margaret Ikeda, and Evan Jones
Sponsors: Kreysler & Associates, CCA MFA in Writing Program
Thursday, September 13
6:00pm: Keynote: "Urban Clearcutting"
Dr. Adrian Parr, UT Arlington
Reception to follow.
Friday, September 14
9:00am-12:30pm: Panel Presentations & Discussion
Reception to follow.