the BIG + ONE + Sherwood team's vision for Southeastern San Francisco is Islais Hyper-Creek, a restoration of the area's underlying natural watershed as a major new park.
-
Addressing risk from coastal and stormwater flooding, Islais HYper-Creek serves as an opportunity to bring the existing industrial ecosystem into the next economy.
Recognized by the Resilient by Design Jury for seeing both the opportunities and the risks of impending changes in Islais Creek and for their sensitivity to the environment and the place.
- Project overview -
Today, the basin of Islais Creek–an historic watershed-turned-industrial district in San Francisco, built on rubble from a 1906 earthquake–is at risk from coastal and stormwater flooding, as well as liquefaction.
Islais Hyper-Creek is a vision for the area where ecology and industry co-exist in harmony. A large park with a restored tidal creek system and soft shoreline shares the area with maritime functions, light manufacturing, and logistics that have formed the area's economic backbone for decades. This park plays an important role in building physical and social resilience: it retains, conveys and cleans water, protecting the surrounding neighborhoods while providing amenities and benefits to the community. Present-day industrial functions are consolidated in a smaller area, clustered with complementary programs. This increases their efficiency and provides new economic opportunities.
Six proposed pilot projects, developed together with stakeholders and local communities, will kickstart a long-term process toward realizing the overall vision.
Islais Hyper-Creek integrates industry and ecology in an historic working watershed in Southeastern San Francisco, a logistics hub for the greater Bay Area (Courtesy BIG + ONE + Sherwood).
- WHERE -
Islais Hyper-Creek is located at the juncture of many diverse neighborhoods, including Bayview-Hunters Point, Dogpatch, and Potrero Hill. Notably, the area is a nexus for working-class industrial jobs as well as food distribution, art-making, craftsmanship, fabrication, and more. The present-day Islais Creek is more channel than creek, though its low-lying surroundings were once marshland, now filled in with debris and at risk of liquefaction.
The area also faces the risks of stormwater and sewage flooding along with repeat coastal flooding. It functions as important infrastructural hub for the entire city, host to shipping centers, the city's wholesale produce market, a wastewater treatment plant which treats 80% of San Francisco's sewage, and many other supporting businesses in construction, manufacturing, and crafts. The area currently provides 22,000 jobs. If it were to come to a standstill because of catastrophic shock, the City of San Francisco would stop functioning.
Weaving together natural, industrial, and social ecosystems, Islais Creek becomes dense, connective, and accessible: a resilience model for the entire Bay Area (Courtesy BIG + ONE + Sherwood).
- WHAT -
The central element of Islais Hyper-Creek is a naturalized creek, its restored watershed absorbing millions of gallons of stormwater annually while providing multi-level ecosystem benefits. Public spaces along the swimmable riparian corridor offer recreational amenities, reconnecting the area to its historic waterfront.
Beyond the creek itself, Islais Hyper-Creek is a holistic, district-wide plan. Existing industrial operations in the nearby districts are clustered, consolidated, and intensified, creating a vital job and logistics hub dependent on the industrial economy. Infrastructure, including logistical and port functions, is strengthened and adapted to be both flood and earthquake-resistant. Weaving together natural, industrial, and social ecosystems, the creek becomes a dense, connective, and accessible area: a resilience model for the entire Bay Area.
Climate challenges and urban challenges facing Islais Creek (Courtesy BIG + ONE + Sherwood).
The real innovation of Islais Hyper-Creek is rooted in its renewed attitude toward the area's dual history of vibrant ecology and industry, categories often seen at odds with one another.
-
In linking these crucial functions together in a considered, resilient, and non-exploitative way, vitality and local value can be reopened into an historic riparian corridor.
- WHY -
Bringing resilient design to Islais Creek is a long-term vision but a short-term method to deal with the immediate shocks and stresses of climate change, which can be seen daily in the built and natural environment. Subject to king tides, repeat flooding, and sea level rise, the neighborhoods surrounding the present-day industrialized creek house an increasingly vulnerable hub of vital infrastructure for the City of San Francisco, as well as constituent jobs and cultural assets. At the same time, residents and local workers raise the issues of environmental justice and equitable access to training and jobs.
The BIG + ONE + Sherwood team recognizes the importance of adaptive scalar thinking accounting for both immediate risks and long-term strategies in the creation of an equitable, climate-responsive, and valuable series of public spaces and interventions. With Islais Hyper-Creek, the team proposes a strategy integrating protective and adaptive measures on the shoreline with ecological restoration and economic growth extending throughout the creek basin, while also fostering social resiliency and training programs further upland.
Proposed pilot projects for Islais Hyper-Creek (Courtesy BIG + ONE + Sherwood).
- SIX PILOTS -
The BIG + ONE + Sherwood team has highlighted six potential pilot projects to kickstart the long-term vision for a resilient Islais Hyper-Creek. These include:
1. Islais Creek Gateway: At Pier 90, underutilized land can be naturalized into soft shorelines to better handle storm surge, creating a gateway park to Bayview and space for stacked vertical industry and working spaces along the iconic grain silos, kicking off a longer-term naturalization of the creek's southern edge.
2. Living Levee: At the Southeast Plant, natural treatment systems can be piloted along the creek, using wetlands to process waste water, and tying in to a future decking of the plant itself, creating space for much-needed recreation, open space, and education opportunities for the neighborhood.
3. River Park: Along Cesar Chavez Boulevard, existing vehicle yards can be consolidated and stacked in a future district facility, creating space for a daylit creek along its historic path and opportunities for living by the water along its banks.
4. SF Food District: The San Francisco Produce Market will be modernizing in the future. By incorporating additional functions, it can help kick-off the creation of a future food and clean logistics district in the heart of the basin, where production, storage, selling, and enjoyment of the area's products come together as a new destination in Bayview.
5. Living with Water: Alemany Farmer's Market sits at a critical pinch point in the creek's flow. Rethinking the site, we can accommodate space for water, doubling as a park, flanked by a new market and space for housing overhead, with adjacent parcels underneath the freeways doubling as parking and water reservoirs.
2. Innovation Cove: At the bay shore, land circling Warm Water Cove can help extend the city's waterfront network into the southeast, providing a platform for a new innovation dock, local business incubators, research facilities, and experiments in resilient floating architecture form a hub of innovation for the city.
The working group has arrived at these pilots based on their ability to align with various current and planned projects or studies initiated by the City and the Port. This will allow agencies and local organizations to form a planning process around them and be drivers for their future implementation.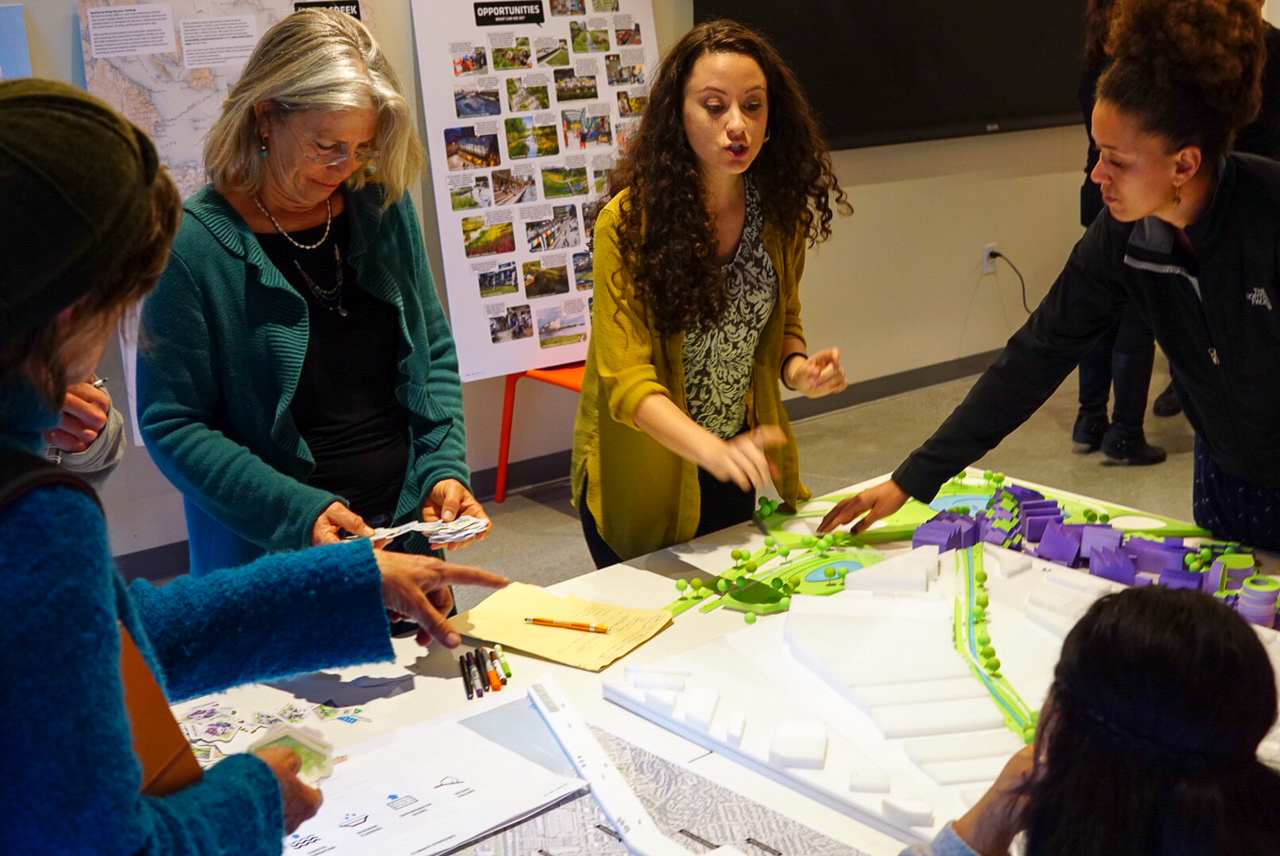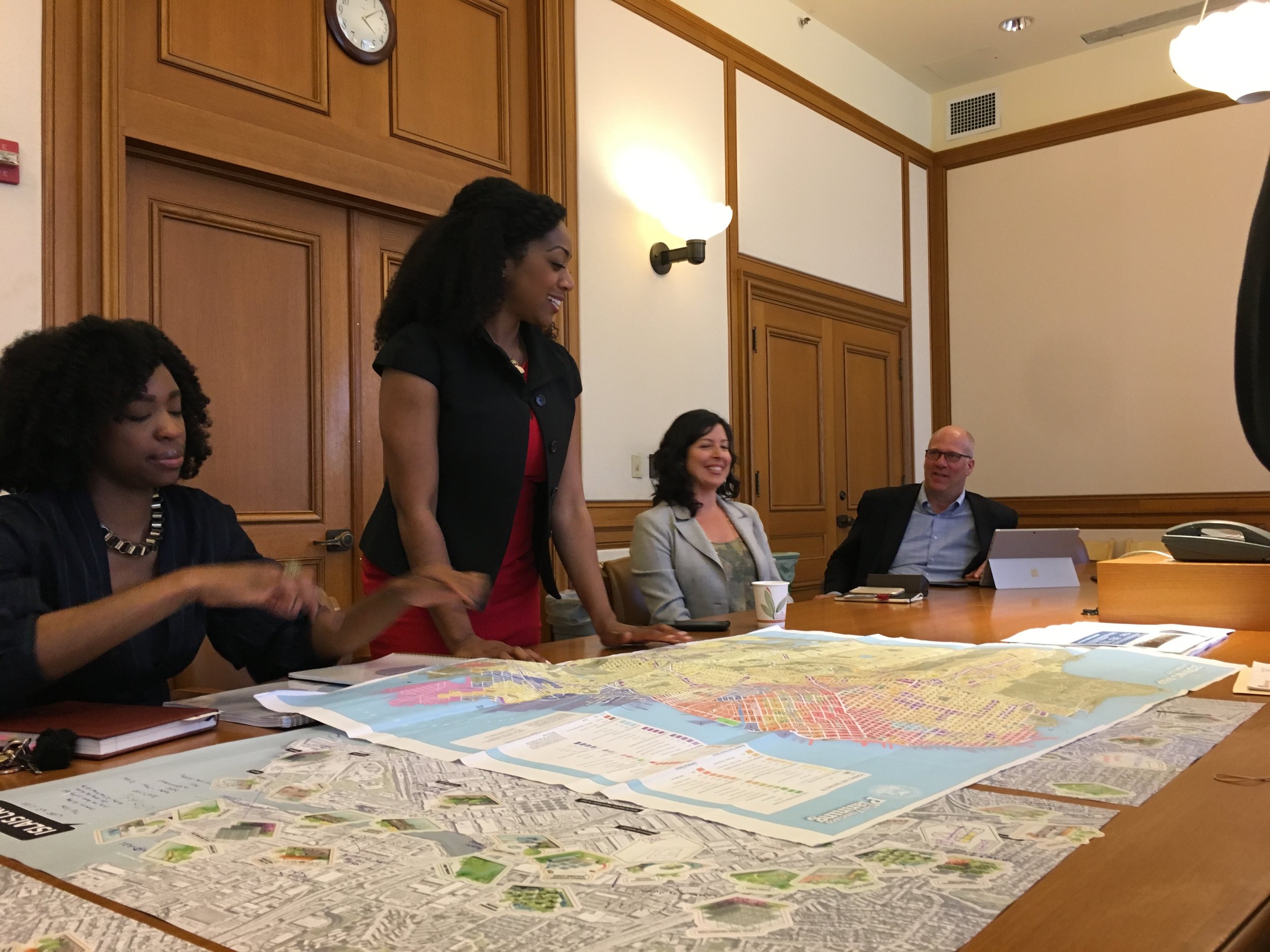 The Islais Creek team created a toolkit allowing residents in Bayview-Hunters Point, Dopatch, Potrero Hill. Over several months of the project's development, the team held over 80 local workshops and meetings with stakeholders and community members (Courtesy BIG + ONE + Sherwood).
- Who -
The BIG + ONE + Sherwood Team is co-led by Bjarke Ingels Group (BIG), One Architecture & Urbanism (ONE), and Sherwood Design Engineers (Sherwood). The team also includes leading experts from Moffat & Nichol, Nelson Nygaard, Strategic Economics, The Dutra Group, and Stanford University.
The complexity of the topics at play in Islais Creek prompted our team to think about the initial five-month process of the Design Phase for Resilient by Design as the first step in a longer process of collaboration between the City and community to create a shared vision of implementation pathways for a more resilient Islais Creek. Through meetings with over 80 agencies as well as local and regional groups, the BIG + ONE + Sherwood team organically formed a working group with the goal of providing a long-term platform for possible outcomes addressing the social, economic, and environmental future of Islais Creek.
Four major groups of stakeholder groups were identified throughout this process. A skim-list of key players and collaborators include:
Environmental Justice and Open Space: Literacy for Environmental Justice, SF Parks Alliance, Bayview Magic, the San Francisco Estuary Institute, the Sierra Club, Kayaks Unlimited, the Golden Gate Audubon Society, the Wild Oyster Project and Friends of Islais Creek;

Local Economics and Workforce Development: A. Philip Randolph Institute, Young Community Developers, SFMade, Merchants of Butchertown, and Prologis;

Social Resilience: Resilient Bayview, The Neighborhood Empowerment Network, the San Francisco Conservation Corps, The Green Benefits District and the Potrero Boosters;

Government Accountability: R. Dwayne Jones RDJ Enterprises, SF Port, SF Planning Department, San Francisco Public Utilities Commission, San Francisco Department of Public Works, and Office of Resilience and Capital Planning.
Together, the design team, city officials, and community partners have co-created a shared vision for the area and have identified potential sites for short- term projects, funding opportunities and local champions.
- voices -
- UPDATES From the challenge -
The BIG + ONE + SHERWOOD Team is co-led by Bjarke Ingels Group (BIG), One Architecture & Urbanism (ONE), and Sherwood Design Engineers (Sherwood).
The team also includes leading experts from Moffat & Nichol, Nelson Nygaard, Strategic Economics, and The Dutra Group. Together, they bring international experience from Denmark, the Netherlands, and the Bay Area by designing innovative solutions for climate vulnerabilities.